Growing up in the 90's, anyone will know that gaming was not a mainstream hobby like it is today, and it was even less likely to be accepted as a career. A gaming man cave back then would have been filled with a pool table, dart board and cigars. Gaming was the strange kid in the corner talking to itself, and making cat noises at anyone who approached.
Today, a gaming man cave pays homage to nostalgia. If your 12 year old self could see a grown up vision of themselves, i'd like to think having a gaming cave would seal the nod of approval.
Simian Gaming aims to share the best content in the gaming market to help you fuel that spark inside, and smile every time you walk into your gaming man cave and see what you've built.
A gaming man cave, or simply a gaming cave is not simply another room in the house. It is a sanctuary, a home within a home. A place where a man can express himself and switch off from the world.
So lets breaks down the formula of a gaming man cave:
Gaming rig
Whats your rig?
Obviously we have to start with the centre piece of your gaming man cave. The hardware. Whether its a console, laptop or your prized gaming PC no gaming cave is complete without it.
It's the main protagonist of your cave, the pièce de résistance. The layout of your gaming cave is based around this singular asset. Just as the Earth orbits the Sun, everything in your man cave is centred around your gaming rig. It decides what stand, desk, seating, sound system, lighting you need and their locations.
It sends a clear message to your friends; "I don't play with others" or "grab a controller, lets split screen" although the latter is a shadow of its former glory.
Check out our market leaders for gaming laptops under £1300 to help get you started
Lighting
Every main character needs a brother in arms, a side kick to compliment their skills, character and personality. Gerallt had Dandelion, MasterChief had Cortana and Marcus had Dom (RIP). A good lighting set up has the same principle (now hear me out here…)
Nothing controls the vibe of your man cave more than the lighting. Get it right and it can set you up for a relaxing gaming experience, get it wrong and you'll be nursing a headache after half an hour.
It doesn't need to be expensive, half the task is finding a good location. A well placed mood lamp will do wonders for your residual light in your gaming cave.
Personally I have the nano leaf which is a great way of adding a mellow vibe playing my favourite RPG. The colour sequences means it looks great during the both day and night.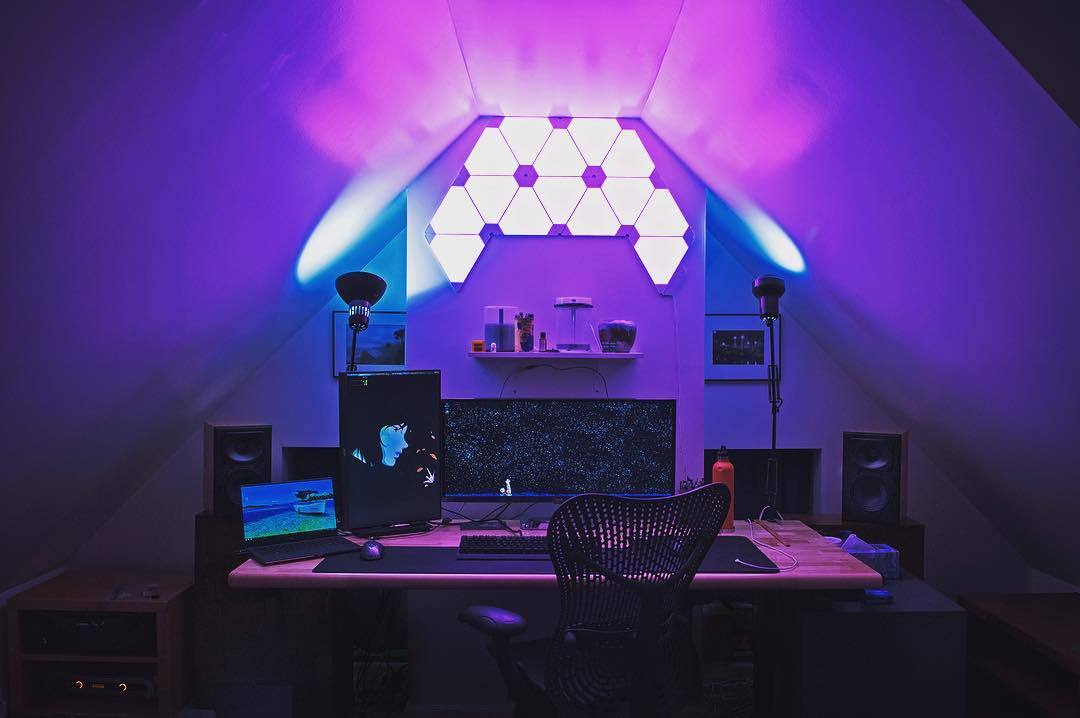 Gaming Lighting ideas to improve your set up:
Sound System
So you've set your gaming rig up, and your lighting has made your gaming man cave look like those Pinterest stock images. Now, no man cave is complete without a sound system to complement the pride and joy of your gaming rig.
Would you buy a Lamborghini and put Ford Mondeo alloys on it? At a guess I would say no. A sound system has the same effect. Get it right and it will create complete immersion on your favourite movie, or game.
Good news is you don't need to fork out a fortune for a decent sound system. A good quality lower end speaker is a great starting point if you're on a budget.
Top Tip: To fully utilise your speakers I suggest wall mounting that can elevate a lower end speaker to the next level. A wall bracket can usually be purchased alongside decent branded speakers, and are easy to install. A bit of elbow grease never hurt anyone.
Great quality speakers on a budget:
Gaming Furniture
We don't want you sat cross legged on the floor playing games do we. Lets leave the core strengthening for another time. Your gaming chair and desk is the second thing people's eyes are drawn to (including yours) when walking into your gaming man cave. Lets not make it a cheap reclaimed wood table from your local click and collect store.
Again a decent gaming desk isn't going to break the bank if you've got this far. But it will create a statement that says "this is my man cave, and i'm serious about it" I mean it looks great.
The only thing missing now is a chair. Of course the Clutch chairs are the creme de la creme, but you don't need PewDiePie's $399 recliner, a modest gaming chair can serve the same purpose if you're just getting started.
Wall Art
Finally the art work. Wall art showcases your personality in your gaming man cave. It tells friends; this is who I am at home, and when you're gaming solo it's a great way to surround yourself with a visual representation of your passion.
Displate is an excellent source of wall art, created by aspiring amateur artists. They are held up with sticky a magnet that leaves no wall marks. The art work on the site is created by freelance artists who share in the profits made by Displate. So you're supporting artists. Win-win for creators.
We'd love to hear from you, and share your gaming man cave photos with us at gorillascave9@gmail.com. Or drop us a message on Instagram